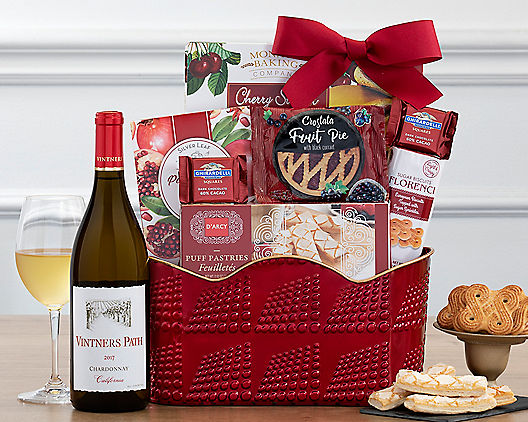 Have a gourmet chocolate gift basket delivered right to their door! With so many goodies your head will explode, this basket has something for everyone. Or everything for someone. It all sounds so delicious – maybe I should eat some breakfast before I end up raiding my chocolate stash.
The basket contains a bottle of Chocolate Shop red wine infused with chocolate. The basket also contains milk chocolate, white chocolate, dark chocolate, chocolate truffles, Godiva creme brulee truffles, chocolate covered pretzels, chocolate covered Oreos… and a bunch more chocolate goodies!
It's the perfect gift for the chocolate lover in your life! Is anyone not a chocolate lover? I guess it's a great gift for pretty much anyone – except for diabetics.
The best thing about a gorgeous gift basket is that it can be delivered right to the person's door, saving you time and extra shipping costs, since you don't have to wrap the gift yourself.
How great would it be to receive such a gift this holiday season? I'm especially curious about the chocolate infused red wine! Getting to try something new and different is always appreciated by recipients. They'll love it!


Chocolate Shop Red Wine And Chocolate Tower