To The New Baby!
Wine Country Gift Baskets isn't all about wine! Check out these adorable baby baskets for the new baby (but mostly for mom and dad)! Filled with specialty treats, these baskets are sure to please. You can get either blue or pink, depending on if it's a boy or a girl. Or, you know, switch it up to express your nonconformity.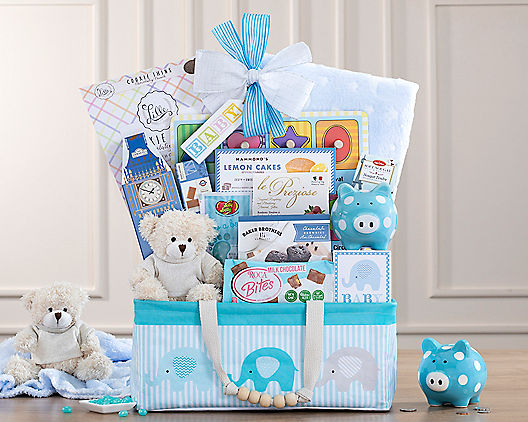 The baskets include a soft rabbit toy, a cute piggy bank, Tazo organic Darjeeling tea, some iced cinnamon roll cookies, yummy sea salt vanilla caramels, peanut crunch, blood orange and honey candy, brownie cookies and a fresh baby elephant honey vanilla cookie. Sounds delicious! And adorable!
You thought Wine Country Gift Baskets only sold wine, didn't you? I know I did – but then I found these, so please enjoy! Now I know what to get the next time someone has a baby. I have trouble with this and maybe other people do, too. So here's some help for all of us from Country Wine Gift Baskets.
Click Here To Buy A Baby Gift Basket
They also have many other types of gift baskets which I had no idea existed, including but not limited to specific holidays, corporate gifts, anniversaries, graduation, and sympathy. They even have coffee and tea gift baskets! Just use the drop down menus to make selections.
Click Here To Receive 5-30% Off Selected Gift Baskets And Towers 
Oh Baby – Blue or Pink Basket